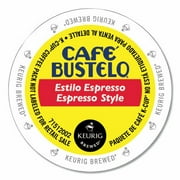 Medium, dark blend of the finest coffees for an irresistible aroma and rich, full-bodied flavor that stands up to milk and sugar, like no other! Beverage Type: Coffee; Flavor: Espresso; Roast Type: Dark; Packing Type: K-Cup®. Note: This is a non-returnable item.
Customer Reviews
Excellent to drink alone or dressed up
I use Cafe Bustello kcups as espresso for coffee drinks, using the smallest quantity cup on my Keurig and the STRONG setting. Also, I use the 8 oz setting to make a regular cup of coffee. I didn't know for a long time how truly excellent Cafe Bustello is to drink as regular coffee (instead of a base for Latte-type drinks) but it is my fav for coffee with more kick than my usual mild coffee.
Strong coffee great price
This coffee is great if you love strong coffee. I thought it was a great pricerob
BestcoffeeEver
I tried this coffee after experimenting with many kinds, trying to find one that was as tasty as Starbucks French roast and less expensive. This one is the winner comma hands down. Not only is it as good but much better than Starbucks and a far better value. Hi-5! I am a lifetime customer.Natsmat
You may also be interested in